The Lean Canvas, Single Page Business Plan
(The Entire Essence of Your Company on One Page)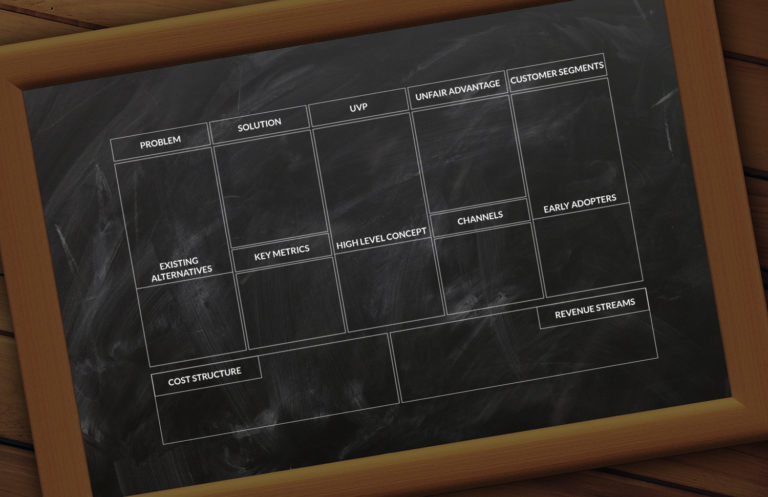 The Lean Canvas was developed by Ash Maurya in 2010 and has quickly caught on because of its simple and powerful ability to transform business ideas into a lean and actionable model that allows for a more fluid transition when things change, as things most often will.

In his book, Running Lean, Maurya talks about the fact that most start-ups fail with their "plan A." Therefore, developing a traditional 60-page business model does not always make practical sense. This is especially true when the model is based on untested assumptions. Maurya's concept of "running lean" allows you to continually test and refine your business model by using a single page diagram he calls the Lean Canvas.

After creating a Lean Canvas diagram you can easily share it with clients and stakeholders allowing their input to inform you as you continually develop your business plan. A Lean Canvas is easily updatable and allows you to make changes along the way addressing the market needs more effectively and then testing for validation. The process is more cyclical and dynamic than the static form of a traditional business model.
How to Create a Lean Canvas
There are various schematics and templates available online for creating a Lean Canvas. However, if you are anxious to get started, just grab a blank sheet of paper and identify the following nine elements.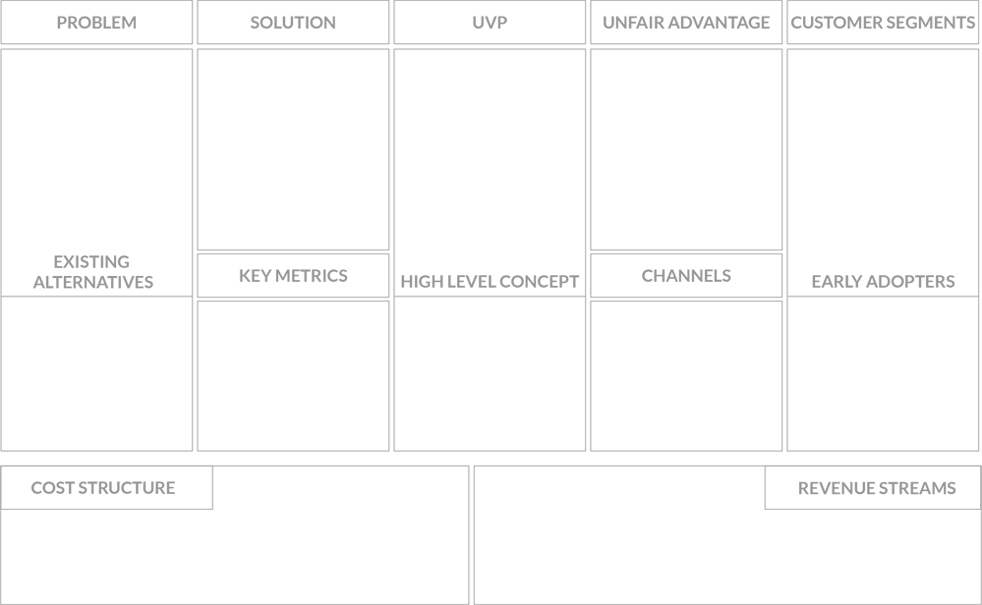 Problem – Identify the customer problem or pain point for which your product or service can solve.

"All your initial energy should be channeled towards finding evidence of a monetizable problem, not towards acquiring more resources to build out your solution." ~ Ash Maurya

Solution – How does your product of service seek to diminish or eliminate your target consumer's pain point?
Unique Value Proposition – What does your company, product, or service offer that adds value to the goods or service you provide? Why should people care about your company? This is also where your company's mission statement will come in. What is your company culture going to be like?
Competitive Advantage – How does your company differentiate from the competition? Do you have a patent or innovation —something that cannot be copied?
Key Metrics – These include any business process or activity that is measurable such as, market size, penetration, revenue per customer, as well as any data stakeholders request or would be interested in seeing.
Distribution Channels – How are your customers going to find your goods or services? How are you going to engage with consumers?
Customer Segments – Who does your company serve? Complete a demographic "sketch" of your target consumer.
Cost Structure – Define the costs of doing business. This includes salary, operational costs, distribution costs, back-end costs, marketing, etc.
Revenue Streams – How do you plan to generate revenue? What do you need to be profitable? What is the lifetime value of your customer?
One of the most exciting aspects of creating your business model via the Lean Canvas approach is that it is an organic, intuitive, and agile process that lends itself to brainstorming and thought provocation. All the while, it keeps ideas reined in, focused and organized. Preparing a Lean Canvas can help you identify value for your business that differentiates it from others. It is a fresh approach to business planning that is perfect for the startup since it replaces the traditionally taxing, overcomplicated, and outdated process of business model planning.
In case you aren't convinced, here are the four main reasons the Lean Canvas business model approach makes sense.
Fast – Outline multiple business models and many scenarios in a few hours
Portable – The single page format is a lot easier to share when soliciting input from others.
Effective – The Lean Canvas is your best business pitch in diagram form.
Concise – Focusing in on the 9 elements forces you to discover the very essence of your business.
Business model planning can be an overwhelming experience for those just starting out. It can be a dreaded process for the more experienced founders. It shouldn't be either of those things. Don't let worries over business planning delay your startup; connect with us today and discover the many ways we can help get your business off the ground.
3 Steps to Website Success
You could go crazy trying to keep up with the "new and the now" but you don't have to. Setting out on the path to success with your website is as easy as understanding the 3 Steps.